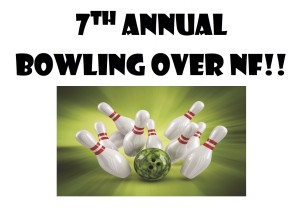 Looking for a fun way to cool off and support the NFCA at the same time? Join us for the 7th Annual Bowling Over NF fundraiser.
Date: Sunday, July 16
Time: 1:00 – 4:00 p.m.
Location: Paradise Island Bowl at 7601 Grand Avenue, Neville Island, PA 15225
Price: $25 Adults / $15 Youth (12 & under)
Registration: For tickets contact Wanda Harper at 412-833-5809 or nfcawanda@gmail.com
Bowl as many games as you can in 3 hours! Shoe rental, snacks and soft drinks are included. We'll have lots of door prizes and raffle items. Click here to view the invitation.
All proceeds benefit the Neurofibromatosis Clinics Association (NFCA).