Thank you for considering a contribution to the NFCA. Your donation helps ensure that the most promising projects are thoroughly explored and funded. The NFCA is registered as a charitable organization (ID #25-176-3156).
PayPal
You can make an online donation right now using our PayPal button. Please remember to click "Add special instructions for the seller" to indicate if your donation is honoring someone or for a specific event.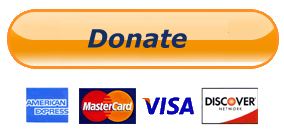 Pay By Check
Please make checks payable to NFCA and mail to the address listed at the bottom of this page.
United Way
You can support the NFCA with a payroll deduction. United Way's payroll deduction method of pledge payment offers you a convenient way to support our organization. By spreading your gift over the course of the year, you can "painlessly" provide support to the NFCA. If your employer participates in the campaign, simply designate the NFCA using the number #885410 as your code. The NFCA is listed in the United Way's code book for agencies.
Amazon Smile
You shop. Amazon gives.
Amazon will donate 0.5% of the price of your eligible purchases to Neurofibromatosis Clinics Associates, Inc. whenever you shop on AmazonSmile. Click here to get started shopping (and helping).
iGive
Shop online and a percentage of your purchase will benefit the NFCA! Evanston, Ill.-based iGive.com offers a shopping mall that benefits charities. Pittsburgh-area nonprofits including the Neurofibromatosis Clinics Association, the Animal Rescue League and the Pittsburgh AIDS Task Force are among groups that receive donations when iGive shoppers purchase items from merchants in the iGive mall.
Tell a friend about this offer by sending them this, "You can support the Neurofibromatosis Clinics Association, Inc. by using this link to shop at iGive.".
GoodSearch
Make GoodSearch your homepage. They'll donate to your cause when you search the web or shop at over 5,000+ online stores! Every time you start your web browser GoodSearch will automatically load and be the first site you see. Plus, no matter where you are on the web, you can always click your browser's home button and return to GoodSearch instantly.